ROCK ROOM 2
MISC. AUTOGRAPHS
---
CONCRETE BLONDE
---

AT ANN ARBOR
---

CONCRETE BLONDE
ONE OF THE BEST BANDS THAT EVER EXISTED
IF YOU DON'T KNOW THEIR MUSIC , YOU SHOULD!
---

THE FIRST CARD ANDY EVER HANDED OUT
I MISS JELLYFISH THEY WERE INCREDIBLE!
---

SCHOOL OF FISH
GREAT BAND WHAT HAPPENED?
---

Divynls Christeen and Mark all 4 cassettes signed at St.Andrews on the "Touch Myself" tour
---

Michael Monroe and Sam Yaffa both signed at the Ritz
---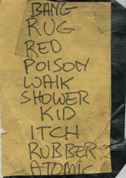 Kix in Fla. 59th St. Mining Co. whole band signed , hard to see
---

Wes Beech @'94 Kisscon were I met Peter Criss Plasmatics RULE
---

"Speak English or Die 2000"
---
---
Web Design by